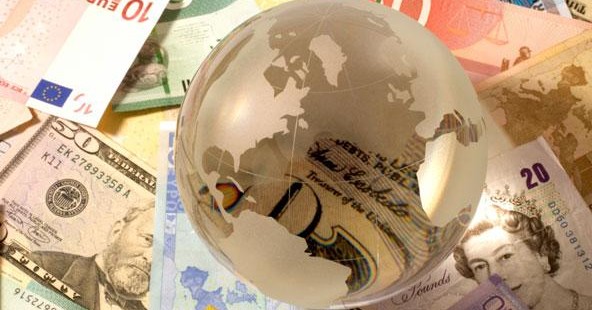 The Global Economy Takes a Baby Step Forward
It's starting to look like that longed-for moment many of us thought would never arrive. Economies around the world have just clocked in with some good news. How shall we read it?
It is too soon to declare we have begun a global recovery, but not too soon to say we stand at the front edge of one. What we have wanted to say for a long time we can at last count on: The worst is behind us.
China has announced a new economic revival plan Japan, Britain, Germany, and crisis nations such as Spain and Ireland within days last week all reported positive indicators for the second quarter. The US's modest-but-steady recovery is best seen in this world-wide context–we have bounced off the bottom, it seems safe to say.
Yet, there is already something gnawing at the edges of this agreeable picture. We may look forward to a reinvigorated global economy, but have we adjusted, or restructured, to avoid repeating the mistakes of the Great Recession?
The European Union, where global weakness has hit hardest, has long contended that its members will emerge from their years of crisis in the second half of 2013. This timetable was too optimistic from the first. And now the International Monetary Fund has pushed its forecast for recovery in the 17-nation euro zone to 2014.
For this year, the fund says, euro zone economies will shrink by 0.6 percent, the second consecutive year of contraction. When Europe returns to growth in 2014, it will achieve a zone-wide expansion of 0.9 percent in gross domestic product.
That seems about right. And it only looks like a disagreement between the fund and the EU. Recoveries do not fall from the sky in little packages. They are achieved gradually. What we see now, in the EU and elsewhere, are the sort of first indications that confirm, rather than contradict, the IMF's projections.
Here is what we heard from around the world last week. Every one of these items, by the way, will have an impact on the others:
ASIA
Last week China announced a modest stimulus package intended to stabilize growth at its second-quarter rate of 7.5 percent. It will cut taxes on more than 6 million small businesses; streamline licensing procedures and administrative costs for exporting companies, and encourage private investment in the nation's ambitious railway construction program.
In Japan, Prime Minister Shinzo Abe announced the first results of "Abenomics," the policy intended to counter a decade of deflation by drastically increasing the money supply. At the end of last week Tokyo reported the biggest increase in inflation in five years, to 0.4 percent in June. So far in 2013 the Tokyo share index is up 40 percent and the yen has weakened by half that percentage, making Japan more competitive.
THE EUROZONE
In the eurozone, the big news was a market survey indicating that manufacturing activity turned positive in July for the first time since February 2012. Markit, a financial data provider, said its Purchasing Managers Index was up to 50.4, from 48.7 the previous month; a reading of 50 or above indicates expansion. "The best PMI reading for one-and-a-half years provides encouraging evidence to suggest that the euro area could, at long last, pull out of its recession in the third quarter," Chris Williamson, Markit's chief economist, said in explaining the index.
In France, the rate of increase in unemployment is slowing (you have to start somewhere) and manufacturers are doing better than they have in 18 months. TheGerman services sector has hit a five-month high, domestic demand is strengthening—nice for other euro zone members—and a much-watched business sentiment survey(this one by the CESifo Group in Munich) came in above market forecasts. Spain'sunemployment rate fell in the second quarter for the first time in two years, andIreland's property market—the black hole of the EU's real estate bubble—ticked up for the first time since 2008.
Even things in austerity-plagued Britain are starting to look a little rosier. In the three months to June 30, the economy registered GDP expansion of 0.6 percent, its second-best result in three years and double the nation's first-quarter performance. Chancellor of the Exchequer George Osborne, prince of the House of Austerity, wants us to know that Britain is "holding its nerve, sticking to our plan, and on the mend." Righty-o.
Yes, Britain's rate of growth doubled in the second quarter; it has still recovered less than half of the contraction it suffered in the 2008-09 recession. Yes, Spain has (or may have) reversed the tide of joblessness, but unemployment remains above 26 percent—more than twice the European average.
So recovery remains imminent for now. Read the data in aggregate, and the direction is plainly, if gently, positive. The problem is the kind of recovery it is shaping up to be. It does not look as if political leaders and policy planners are steering very intelligently.
The term du jour among the economists is rebalancing," and there is a reason for this:
In China, rebalancing means shifting the economy from exports, over-investment, and state-owned enterprises to encourage domestic consumption, decentralization, and less government control in the markets. The new stimulus package feeds the small business sector, but also the exporters and big investors in state-directed projects. Credit China for understanding the need to rebalance, but we see now how slowly this ship is going to turn.
It is the same but different in Britain and the EU. Growing or not, the British economy is as misshapen as it ever was, with an oversized financial sector, gorging, US-style domestic consumption, and weakness in manufacturing and export industries. And you see nothing in the line of rebalancing.
As for the EU, we may be looking at permanent scars. Fundamental questions of economic management remain unaddressed. What are a government's options in responding to recession, for example, when it cannot adjust its currency? A lot of economists now think the imbalances between northern, core Europe and southern, peripheral Europe may actually be reinforced once growth resumes, leaving Germany, above all, in an inappropriately commanding position.
A friend asked me the other week, "Will Germany become European, or will Europe become German?" That is the question, he said, and it is. But it shouldn't be. The Europeans have accomplished much, but they have much still to do if history is not too repeat itself. And this goes for everybody.