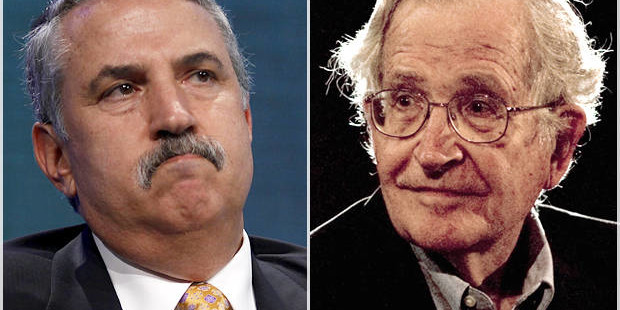 Thomas Friedman, read your Chomsky: The New York Times gets Putin/Obama all wrong, again
"Do you realize now what you've done?" The best question about our Middle East disasters actually comes from Putin
A lot of good people are asking a lot of good questions these days, and this is an excellent thing. On the foreign policy side, it happens the best of these questions are posed by non-Americans, for the simple reason most Americans are not ready to think clearly about our moment and how we have come to it. We do not ask because we cannot answer.
My three favorite questions of late, it also happens, have to do with Syria. And let there be no doubt: It is all over for the Obama administration, the Pentagon, the spooks and all others still pretending there is a "moderate opposition" that will carry the day in the many-sided Syrian conflict. Washington has slipped its grip. Others are in charge now, and as they pursue a solution to this crisis the only choice open to the U.S. is whether or not to join in the effort. It will be interesting to see which alternative the White House and the State Department choose.
"I cannot help asking those who have caused the situation, Do you realize now what you've done?" This is the first good question.
Vladimir Putin posed it in his speech to the U.N. General Assembly 10 days ago. Sensibly, the Russian president added, "But I am afraid no one is going to answer that." To offer modest assistance, Mr. Putin, the U.S. leadership knows exactly what it has done, and this is why you are correct: Your query will go without reply.
The second and third good questions came from Mohammad Javad Zarif, Iran's foreign minister. For my money Zarif is among the ablest diplomats now on the scene. He addressed the U.S. on the Syria crisis during a conference in New York on Monday, and he asked, "Why are you there? Who gave you the right to be there?"
Wow, wow and wow.