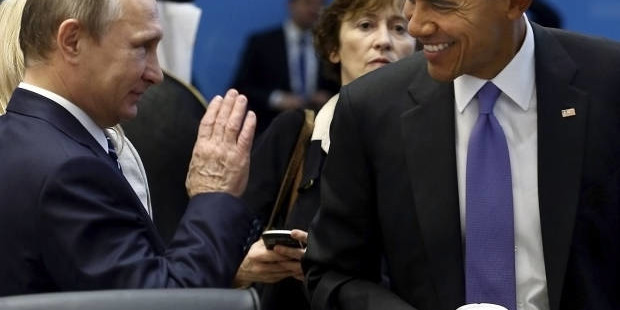 They still want a new Cold War: What the New York Times won't tell you about Syria, Putin and the new battle against ISIS
We despise the foreign leaders a compliant media villainizes. It's worth looking for the real motivations
It is perverse to find good in the tragic events that took place in Paris 10 days ago, but they did force Washington and the European powers finally to take seriously Moscow's proposal for a united front against the Islamic State. It is an almost unspeakable pity it took so devastating an act, given the thought that such an alliance might have been enough to prevent Paris altogether. In effect, we watch now as the West acknowledges that there is something, some irreducibly humane value, that supersedes the incessant search for advantage in a strategic rivalry that need not beset us in the first place.
Everything and everyone has turned on a dime since Paris. Russian, French and U.S. aircraft now coordinate bombing sorties over Syrian territory. President Obama conferred, by all appearances earnestly, with Vladimir Putin during the Group of 20 session in Turkey this past week. French President François Hollande will meet with Obama in Washington this week to come and then fly straight to Moscow to see the Russian president—Kissingeresque shuttle diplomacy, à la française. All minds—or most, we must say—are at last focused on defeating ISIS forces. Even Hillary Clinton, comfortable again with hawk's claws out, is on for this. "We need to get people to turn against the common enemy of ISIS," she said in a much-noted speech at the Council on Foreign Relations in New York last Thursday.
A headline in the Guardian a few days ago caught my eye. "Vladimir Putin: From pariah to powerbroker in one year," it read. A touch overstated, maybe, but Simon Tisdall's column under it was on the money. "No longer ostracized and browbeaten, Putin was the man everybody wanted to meet," the British daily's foreign affairs columnist wrote just as G-20 broke up. "European leaders, backed by Obama, have come to an uncomfortable but, in historical terms, not wholly novel conclusion: They need Russia." Tisdall's piece, still much worth reading, is here.