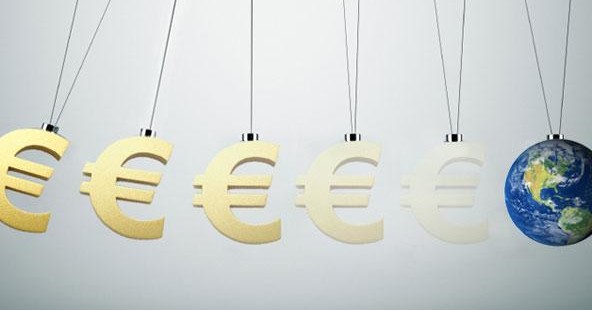 How the White House Is Blowing Off Europe
The Obama administration needs to declare a "pivot to Europe" policy, and quickly.
Not that the famous pivot to Asia has amounted to much: It drifts somewhere in the Pacific like a dead fish. But relations between the U.S. and its European allies are going from not brilliant to sour to urgently in need of attention. The unwanted consequences are near, first of all on the trade side.
Sloppy diplomacy, misguided policy, and a failure to register the dynamics of global politics in the 21st century have Europeans more at odds with Americans than they were during George W. Bush's presidency—and things were bad enough then. A fundamental departure lies in the middle distance, and it may prove inevitable if Washington does not get smart.
Related: Europe's Ogre of Deflation is Rapping at the Door
Ties between the U.S. and its Continental allies took a sharp turn for the worse with the revelations last spring that the National Security Agency has been eavesdropping on the conversations of European leaders. Almost a year later, Obama has failed to give persuasive assurances that the surveillance has stopped, and when he travels to Europe this spring, this will be Topic A–whether he likes it or not.
There are other reasons for the chill across the Atlantic, and it goes beyond how extensively high-tech security agencies should intrude upon foreign leaders who are friends.
Even administration insiders thought Secretary of State Kerry ill-advised to declare Mideast peace talks his signature issue. They were right, of course. And now it emerges as another wedge between Washington and West European capitals.
Kerry has backed Prime Minister Benjamin Netanyahu into a corner and provoked Europeans, long impatient with Israel's breaches of international law, to launch boycotts and disinvestment campaigns that start to look like what the world gave South Africa during the later years of apartheid.
Related: Israel Minister Attacks Kerry Over Boycott Warnings
Outcome: Israel assumes a defensive crouch—a "castle strategy," as they call it—and the Continent no longer has confidence in the U.S. as the "honest broker" able to advance a solution between Israelis and Palestinians.
Now we come to the Ukraine mess. It has long been plain that Europe and the U.S. want to draw Ukraine into the West European orbit, advancing liberal democracy on the Western model eastward and reducing Russia's influence. But the shared goal belies strategies deeply at odds.
With the leak of an embarrassing telephone conversation between two State Department diplomats Friday, the Ukraine's mess is another U.S.-European problem.
The EU proposes to compete with Moscow by way of a beneficial trade agreement in concert with an International Monetary Fund program to prop up the Ukraine's sick economy. So far the EU has failed to match Russian President Vladimir Putin's financial firepower.
Related: Putin Aide Warns U.S. on Ukraine
Late last year the Ukrainian president, President Viktor Yanukovych, turned abruptly back to Moscow after the EU offered a fraction of Putin's $15 billion bailout package. I just cannot afford the EU, Yanukovych effectively said.
Well, it has not worked to date, but it is a policy. Washington has not had a policy toward the Ukraine other than to impose a few sanctions and criticize Yanukovych's treatment of protesters.
Or so it seemed until a taped conversation between Victoria Nuland, assistant secretary of state for European affairs, and Geoffrey Pyatt, the U.S. ambassador in Kiev, was released on YouTube.
On it we hear U.S. officials plotting the installation of a friendly post–Yanukovych regime as if it were the height of the Cold War. As to the Europeans—the comment that turned the YouTube clip viral—Nuland suggested an act ordinarily performed in bedrooms.
Related: Ex-Chancellor Schroeder Accuses U.S. of Disrespect
It appears likely that the Russians made and released the recording, although neither Moscow nor Kiev has had any comment on the tape. No matter. The Europeans are once again incensed: German Chancellor Angela Merkel, sounding just as she did last year on learning the NSA was tapping her telephones, declared the conversation and the activities it described "totally unacceptable."
Late last year, Merkel gave a speech in the German Bundestag arguing in favor of the EU–Ukraine trade pact. The Cold War should be over for everyone, she asserted, including those nations once part of the Soviet Union.
It goes to the larger point about the new troubles between Americans and Europeans. The root of an ever more evident divide lies in the U.S. failure to adjust to a multi-sided post–Cold War environment in which single-nation predominance is no longer sustainable and co-existence, to dig up an old word, is preferable to confrontation and subterfuge.
This is obvious in the Ukraine case but no less so in the Mideast. U.S. policy remains focused on strategic interest, with Israel its centerpiece. There is strong support for Israel among Europeans, without question, but observance of international law is viewed as the surest way to peace, stability, and security for the Israelis and their neighbors.
Related: EU Ready to Lift Duties on Most U.S. Goods for Trade Pact
It is not clear how much momentum the new boycott and disinvestment campaigns will gain. Possibly not much. Clearer is the re-emergence (and not for the first time) of an abiding desire among Europeans to take a place in the Mideast peace process.
If the rift across the Atlantic persists or grows wider, the most immediate casualty may be the Transatlantic Free Trade Area, a liberalization plan similar to the Trans–Pacific Partnership now being negotiated. Talks on the deal with the EU began last July but were immediately tabled by Edward Snowden's surveillance revelations. There was a second session in November, but we have heard nothing since.
Given the secrecy surrounding both sets of trans-oceanic trade talks, it is difficult to predict their outcomes, other than to say they will not meet their deadlines. But, as previously argued in this space, they are vulnerable to differences in values, culture, and tradition that technocrats appear to be overlooking. It looks a lot like another trans–Atlantic clash waiting to happen, and the ground grows more fertile.