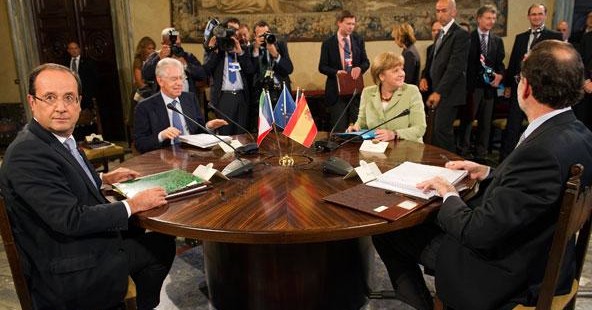 EU Crisis: This Week Could Change the Global Economy
LONDON—This looks like "the week that was" for Europe, as it prepares for a European Council summit in Brussels this Thursday and Friday. As of Monday evening, a 10-page draft document will begin circulating among EU leaders, outlining a new, post-crisis framework for the euro. One hopes the document is good enough to keep the markets in line.
We have been through other passages of drama since the European economic and debt crises erupted three years ago. This one is different. Either Brussels unveils a framework for a new, more unified European Union, or the markets will start savaging Spain, Italy, and Greece and an EU breakup will, for the first time, be a near-term reality.
There are grounds for optimism and pessimism both, but more for the former than the latter. Two big decisions loom before the summit. First, leaders must determine they are willing to provide short-term relief to Europe's ailing peripheral economies in recognition of the negative effect too much austerity has had on them. Growth policies, in other words, are urgent, along with flexibility by way of the structural reforms and austerity measures already in place.
Second, Brussels needs to recognize the moment for what it is. When it launched the euro a decade ago, Europe understood that it was taking an historic step forward in making itself one. It is now time for another such step, just as large in magnitude. Now Europe needs to go forward by way of a fiscal union, a common banking authority, and closer political ties, among other things. These all cut very close to Europe's core issue, which is the extent of national sovereignty vs. the extent to which populations are Europeans first and Belgian, Spanish, or Portuguese second.
"To emerge in good shape from this crisis of the eurozone and the European economy, ever more integration is needed," said Mario Monti, the Italian prime minister, at the end of last week. Without this, he said, public and political interest in the euro would fade quickly, "and there would be progressively greater speculative attacks on individual countries."
Many observers have been frustrated with the sluggish pace at which European leaders and officials have addressed the Continent's crisis, and who can blame them? What policies that have benn advanced have been piecemeal and reactive. But there are encouraging signs that Europeans now recognize they stand at something like a do-or-die moment.
According to the draft, European capitals would give up control of their nations' banks (creating a European banking union), surrender authority over national budgets, and pool risk associated with backing deposits and sovereign borrowing. Interestingly, given German Chancellor Angela Merkel's opposition to the concept, the document also contains plans for the issuance of common eurobonds. It also proposes that the EU's bailout fund, the European Stability Mechanism (which comes into effect in July), may be used to buy stakes in banks requiring bailouts. Mrs. Merkel has thus far opposed such uses of the ESM.
Indeed, those who negotiated the working draft—Herman Van Rompuy, president of the EU Council; European Commission President José Manuel Barroso; Mario Draghi, head of the Europoean Central Bank, and Jean-Claude Juncker, who chairs the eurozone's group of finance ministers—said that tough German demands for centralized control of national spending and taxation were much on their minds as they worked through to the draft's provisions. In the end, some provisions will require changes to the EU's basic treaties. The full framework, they said, will take years to put in place.
The atmospherics across Europe as the summit approaches have been mixed. Toward the end of last week the leaders of Europe's four largest economies—Germany, France, Italy, and Spain—gathered in Rome to present a common front in advance of this week's summit. But it was not to be.  French President François Hollande, Mario Monti of Italy, and Spain's Mariano Rajoy all came out in favor of using Europe's two bailout funds to strengthen the Continent's troubled banks. Nothing doing, Mrs. Merkel replied. "If I am giving money to Spanish banks, I am the Germany chancellor and I cannot say what these banks can do." This kind of disagreement suggests how tough Brussels could prove later this week.
There is Greece to worry about this week, too. At the last minute Sunday, Greece canceled a meeting in Athens with its troika of lenders—the International Monetary Fund, the European Union, and the European Central Bank—canceled a trip to Athens. They were to confer with Antonis Samaras, the newly elected prime minister and other newly named officials. The explanation was that Samaras had just had surgery for a detached retina. I hope I am forgiven for the skepticism I bring to this development by way of its timing. Greece will not meet its creditors now until well after the summit this week.
The fact is that Greece's new coalition government has already drawn up a position paper with which to rewrite its rescue deal with Europe and the troika. It proposes to renegotiate cuts to the minimum wage, drop plans to shed 150,000 public-sector jobs, and reduce property taxes—this last a key element in the EU's efforts to boost Athens' revenues. These ideas are the work of a center-right government; they suggest some notion of how flexible core Europe will have to be when leaders gather in Brussels this week.
On Monday morning, Spain formally requested a package of loans—which it refuses to call a bailout—to shore up Spanish banks. The European Financial Stability Fund and the (new) ESM are to lend Spain $125 billion to keep its banks afloat. It is an encouraging sign of a new flexibility within the EU But here's the kicker: Technically the EFSF and the ESM are lending to the Spanish government, meaning Madrid is incurring yet more sovereign debt on its books. Nor will Madrid's new liabilities enjoy sovereign status in relation to private investors holding Spanish debt.
Now let us see what the rest of the week brings. It is a cliffhanger in Brussels, and one senses the eurocrats know it this time.