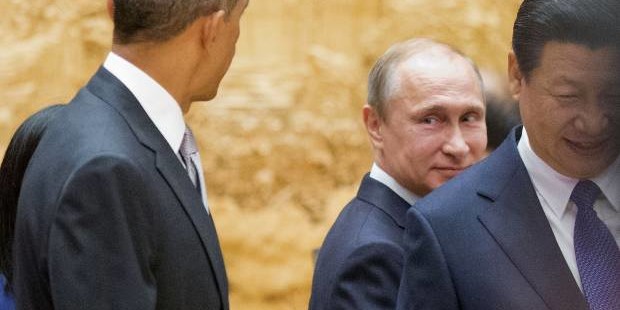 What really happened in Beijing: Putin, Obama, Xi — and the back story the media won't tell you
Ukraine, Iran's nukes, the price of oil: There are ties worthy of a Bourne film, if the media connected the dots
By way of events on the foreign side, the past few weeks start to resemble some once-in-a-while event in the heavens when everyone is supposed to go out and watch as the sun, moon and stars align. There are lots of things happening, and if we put them all together, the way Greek shepherds imagined constellations, a picture emerges. Time to draw the picture.
The situation on the ground in Ukraine is getting messy again. Equally, events of the past year now leave Ukraine's economy not far from sheer extinction. You have not read of this because it does not fit the approved story, but Ukraine's heart barely beats. Further east, we hear in the financial markets that the ruble's decline brings Russia to the brink of another financial collapse.
Let's see. Oil prices are now below $80 a barrel. It costs me nearly $20 less to put gasoline in my car than it did a year ago, and good enough. But why has the price of crude tumbled in so short an interval? It makes little sense when you gather the facts, and — goes without saying — you get no help with that from our media.
Let's keep on trucking. Secretary of State Kerry went to Oman for another round of talks on the Iranian nuclear question last weekend. Russia recently emerged as a potentially key part of a deal, which will be the make-or-break of Kerry's record. In effect, he now greets Russian Foreign Minister Sergei Lavrov with one hand and punches him well below the belt with the other. Somewhere beyond our view this must make sense.