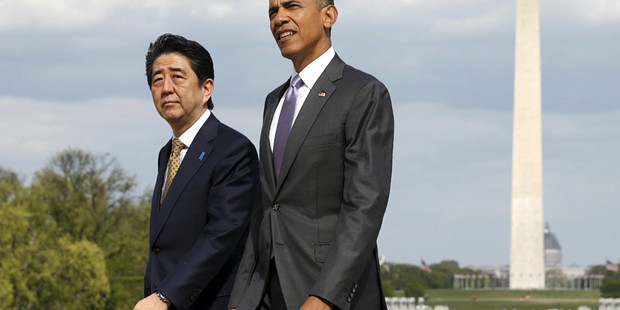 The real story behind Shinzo Abe's visit: China, TPP and what the media won't tell you about this state visit
We witness reordination of a relationship between the U.S. and Japan that should have died a bad death decades ago.
The grande fête Washington has laid on all week for Shinzo Abe, Japan's prime minister, is very unusual on the face of it. When a head of state spends this much time in another nation's capital, you know significant doings are afoot.
And they are. In agreements reached as soon as they met Monday, Abe and President Obama have taken defense ties to an intimacy unprecedented in history. As it stands now, this breaches Article 9 of the Japanese constitution, the "no-war" clause barring Japan from military activities other than those in direct defense of its shores.
On the White House steps Tuesday, Abe confirmed his conscription as a commissioned officer in Washington's campaign to get its ambitious trade pact, the corporate-drafted Trans-Pacific Partnership, signed this year. "We will continue to cooperate to lead the TPP talks through their last phase," Abe said in one of those side-by-side tableaux commonly staged for the press and the television cameras.
Less practically but more momentously, we have Abe's Wednesday address to a joint session of Congress, wherein 535 American legislators implicitly certified Abe and the rightist factions in his Liberal Democratic Party in their efforts to get past questions of guilt and responsibility in the Pacific War (as Asians call World War II and the decade of aggression that preceded it) without honestly addressing them.