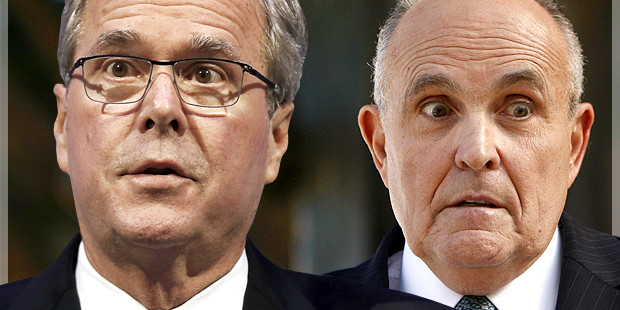 Rudy Giuliani's dangerous game: Jeb Bush, patriotic lies, and the truth about American exceptionalism
Our politicians are selling us fictions dressed up as patriotism. We need a new approach — and not another Bush
"I do not believe that the president loves America. He doesn't love you. And he doesn't love me. He wasn't brought up the way you were brought up and I was brought up through love of this country…. With all our flaws, we're the most exceptional country in the world."
That is Rudy Giuliani, New York's former mayor, speaking at a Republican dinner in Manhattan earlier this month. Many readers will recognize these now-infamous remarks.
Here is Jeb Bush, the all-but-certain Republican candidate in 2016, speaking to the Chicago Council on Global Affairs a few hours earlier:
"America does not have the luxury of withdrawing from the world. Our security, our prosperity and our values demand that we remain engaged and involved in often distant places. We have no reason to apologize for our leadership and our interest in serving the cause of global security, global peace and human freedom."
And here is President Obama, introducing his administration's 2015 National Security Strategy  , an annual announcement as to how America's defense and foreign policy cliques intend to get us through the year:
"Any successful strategy to ensure the safety of the American people and advance our national security interests must begin with an undeniable truth—America must lead. Strong and sustained American leadership is essential to a rules-based international order that promotes global security and prosperity as well as the dignity and human rights of all peoples. The question is never whether America should lead, but how we lead."
There it is, readers. You have your lumpen rightists, who have acquired more power than seemed possible a few years ago but still face the knotty problem of stupidity. You have your mainstream rightists, polished and clever, intent on staying the expansionist course and persuading us it is best for all. On the foreign policy side, these people remain the right's true center of gravity.