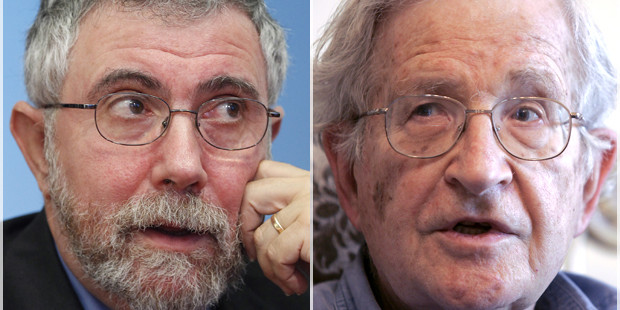 Radical austerity's brutal lies: How Krugman and Chomsky saw through dehumanizing neoliberal spin
The battle in Greece is identical to the one we need to be waging right here for fairness over markets and banks.
The referendum in Greece refuting the European Union's unbending insistence on radical austerity as the medicine Greeks must continue to swallow is simply not to be missed for its multiple layers of significance. To put the core take-home first, we are all Greeks as they stand against the neoliberal orthodoxy. Their battle is perfectly of a piece with one that needs to be called by its name and waged in our great country.
The Greek crisis has given us an altogether exposing moment, to put the point another way. It is universal in all that it lays bare about the world's political economy as it has come to be over the last, say, four decades.
Three understandings—recognitions, maybe—were immediately plain as the polling results came in Sunday evening. The Tsipras government, left social democratic in its thinking, won a triumphant 61 percent of the electorate's support in its stand against the E.U.'s utterly irrational desire to impose more human suffering in the name of market principles. And the magnitude of the victory underscored the truths Greece just gave us:
Greeks voted courage over fear. They insisted that there is a value higher than market value—this value being the commonweal, the well-being of a society and the people who comprise it. They asked, Does the polity serve the market, or does the market serve the polity? This is one of the essential questions of our time, however rarely it gets asked. Posing it is a very large deed in itself, a favor to all others, and the Greeks' reply is larger still, of course.