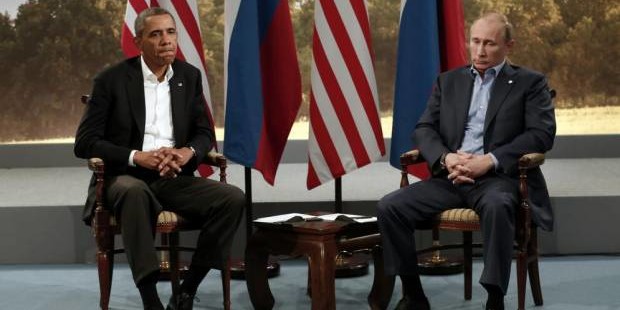 Putin bests Obama — and that's good! Also, Reddit helps catch more New York Times propaganda
American exceptionalism takes another hit, as does the credibility of the Times' foreign coverage
The argument has been made several times in this space that President Obama is as a flyweight in the ring with a counterpuncher such as Vladimir Putin. This is no longer a question of argument or a columnist's point of view. In the past few days we have the spectacle of Obama effectively surrendering to his Russian counterpart on the Ukraine crisis. Confirming this interpretation of Obama's new position, announced last weekend, Putin appears to have since allowed himself a modest victory dance.
No, once again, I am not a Russophile. Yes, once again, an American failure in Ukraine will do all concerned a power of good.
This latest turn began last week, when the provisional government in Kiev launched an "anti-terrorist campaign" intended to suppress dissent and pro-Russian sentiment in the eastern portions of the country. It was less than a day before the operation looked like an outtake from "Car 54, Where Are You?"
Ukrainian army units and assorted "security forces" barely reach the city limits in the dozen or so towns and municipalities before they surrendered not only their weapons but also their tanks, personnel carriers and artillery, declaring they had no stomach for a mission against their own people. Read the New York Times account here. If the Times gives us an account such as this, bet on it there is no longer any way to disguise the provisionals' weak-to-nonexistent hold on the imaginations of something between many and most Ukrainians.