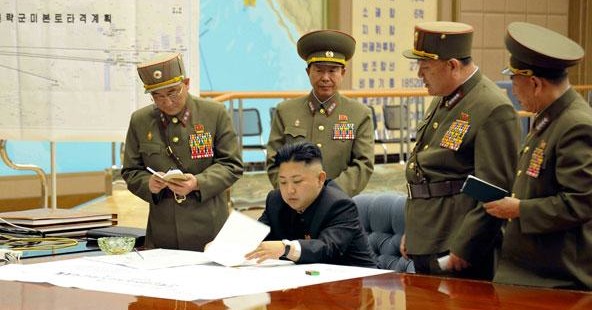 Is North Korea Done With Its March Madness?
Another wacky, worrisome week passes on the Korean peninsula. Kim Jong–un, North Korea's intensely unpredictable leader, has threatened to attack the "U.S. mainland" with nuclear-tipped missiles. He has declared a state of "all-out war" with South Korea. On Saturday, Pyongyang threatened to close the Kaesong industrial complex, a cross-border investment zone and the one remaining link between North and South.
There may be more threats coming—no one knows because no one has a bead on the 30-year-old Kim. "We're all trying to put him on the couch," Jonathan Pollack, the North Korea expert at the Brookings Institution in Washington,told The New York Times. When it comes to the domestic scene in the North, it is a guessing game.
At the same time, certain things are becoming clear. The past week handed us three significant lessons. They are all useful, if not entirely welcome.
• There is now ample evidence that Kim's daily program of posturing and bellicose rhetoric is intended for internal consumption. As a senior Obama administration official said on CBS News over the weekend, "North Korea is not going to war." I find this perfectly believable: Kim and his generals are no more given to suicide than the mullahs in Iran.
• The linchpin of a solution to the Korean crisis now lies with China. Washington has no way open to the North—the tracks have been pulled up. The six-party talks held during from 2003 onward lie similarly in history's bin: Nobody wants anything to do with them. China is the only nation left with a telephone line into Pyongyang.
• Finally, the not-so-brilliant part. It would be a mistake for Washington or any ally to expect Beijing to step up now with a dynamic policy that produces meaningful political and economic change in North Korea. China wants neither so much as it wants "stability." Think about Xi Jinping, the new supremo in Beijing.
Has he not been playing a variation on Kim's very theme, stressing military strength to keep the great, broad masses behind him? China: a bad bet as a source of innovative diplomacy or reform.
Let us take each of these points separately.
We were treated this past week to images of Kim—who has now assumed the title of "dear marshal," in the family tradition—arriving on a wind-tossed island, pouring over maps with his generals, inspecting high-powered landing craft as they hit the beaches. The analysts now tell us it was all staged. There was no such boat for Kim to arrive in; the maps were fantasies; the landing craft were Photoshopped to multiply their number.
The only way to make sense of any of this is to look at Kim's domestic scene. He is either facing off with some of the generals he inherited from his father, or he is keeping the faithful.
My take, shared by Jonathan Pollack at Brookings: It is like father, like son. The Kim's have long made a nationalist meal out of the annual military exercises the U.S. and South Korea conduct. There is a reasonable chance—we will have to see—that Kim's bad acting will abate when this year's drills are finished and the end of April.
As to the future lying in China's hands, there is no other way forward. Leaders in the Pacific are already calling upon Beijing to take the lead. This is not altogether new. Even during the six-party talks it was the Chinese who brought North Koreans to the table.
The U.S. offers a military option, and well enough it is there. But once Pyongyang's current messes get cleared up, and assuming the North is in no position to launch hostilities, you have to read the Korea question as a diplomatic story, not a hardware story.
Consider this from the perspective of leverage. Elites in Pyongyang, military and non-military have been deepening commercial ties to China steadily over the last decade. In 2011 (latest year available) China–North Korea trade came to $6.3 billion. It is taxi fare to the Chinese, but 90 percent of the North's foreign trade. In 2004, by contrast, China spoke for less than half of the North's overseas trade.
What could China do? Well, it hosted Kim Jong-il, the new Kim's father, on numerous tours of car plants, electronics factories, special economic zones, and the like. For a time it looked certain that the late Jong-il would adopt China's reforms. When he died, there were a few bare-bones experiments under way on the border between the two
nations. Beijing could pick up this string where it dropped.
But it appears a doubtful prospect at this moment. The common wisdom is that China, as always, will use a combination of diplomacy, commercial investment, and development aid to bring the North along. It is possible. But the early signals are that Beijing does not want the responsibility for the North's recent madness. For one thing, it likes a dependent, fairly broke dictatorship on its northeast border. For another, it will do nothing to risk the stability it requires in Northeast Asia as it develops its domestic economy.
Here is how a foreign ministry spokesman put it over the weekend, in response to all the tumult of last week: "Peace and stability of the Korean peninsula as well as Northeast Asia serve common interest and require the common effort of all parties. We call on all relevant parties to make joint efforts to turn around the tense situation."
Considering the extent of China's influence, that is a shocking dereliction. Then again, think about that bilateral trade account: What is that about if not China's modest effort to mitigate the impact of sanctions on the world's most sanctioned nation?
Footnote: It is worth watching Secretary of State John Kerry over the next couple of weeks. At mid-month he will travel to South Korea, China, and Japan.